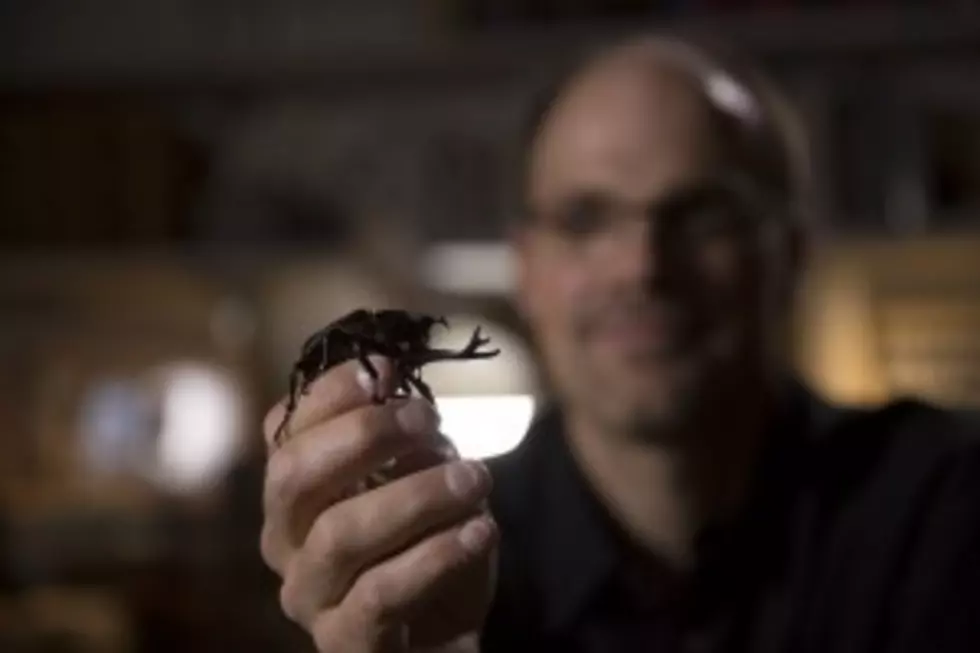 UM Professor's Animal Weaponry Research Featured on 'NOVA' Episode
PHOTO: UM biology Professor Doug Emlen holds a rhinoceros beetle. (Photo by Stuart Dunn/BBC)
MISSOULA – MontanaPBS will broadcast an episode of the popular "NOVA" science program that explores the research and discoveries of University of Montana biology Professor Doug Emlen at 8 p.m. Wednesday, Nov. 22.
The episode, "Extreme Animal Weapons," is based on an hour-long documentary starring Emlen that originally aired on the BBC in April. Both episodes were inspired by Emlen's 2014 book "Animal Weapons: The Evolution of Battle."
Sporting a Griz hat, Emlen takes "NOVA" viewers to various locations in Montana and Washington, including a ranch with elk overlooking Flathead Lake and a building crammed with 17,000 shed antlers called Jim's Horn House in Three Forks.
The UM researcher has spent 30 years investigating how weapon-bearing species developed extreme ways to gouge and gore one another using their natural weapons. The episode investigates the riddle of outsize weaponry and outlines Emlen's bold new theory about what triggers an animal arms race. In creatures as varied as dung beetles and saber-toothed tigers, shrimp and elephants, the same hidden factors trigger the race and, once started, these arms races unfold in exactly the same pattern.