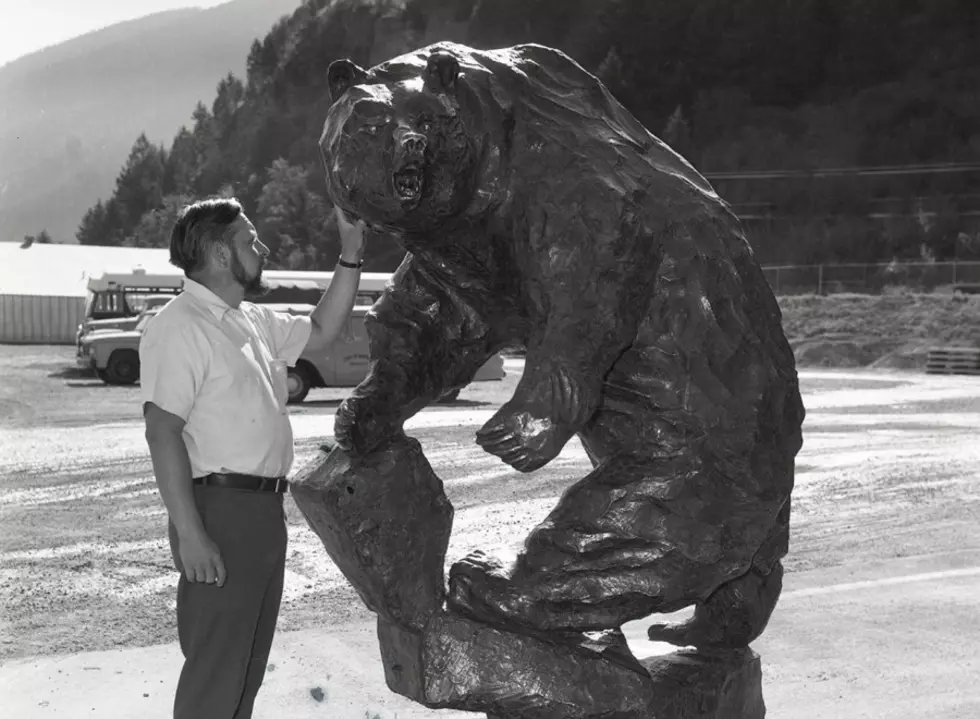 UM Plans 50th Birthday Party for Grizzly Bear Statue
UM artist Rudy Autio welcomes the Grizzly Bear statue to campus in 1969. (Courtesy of UM Archives and Special Collections)
MISSOULA – Thousands have taken their picture with the University of Montana's Grizzly Bear statue, and on Tuesday, Aug. 27, campus will celebrate the 50th birthday of this iconic symbol of UM.
The party will run from 11:30 a.m. to 1 p.m. near the statue on the UM Oval. Birthday cake will be served, the UM Marching Band will play "Happy Birthday" at noon, and UM President Seth Bodnar will attend the festivities – along with mascot Monte.
UM will display historic pictures of the statue's installation, and art history Professor H. Rafael Chacón will be available to answer questions the about the bear and its renowned sculptor Rudy Autio (1926-2007), who founded UM's ceramics division and chaired the School of Art from 1957 to 1985. Members of Autio's family are expected to attend the event.
UM's 3-ton Grizzly Bear statue was commissioned by former UM President Robert T. Pantzer, who led UM from 1966 to 1973. According to archived UM news releases, the statue arrived on campus on Aug. 27, 1969.
Before crafting the bear, Autio visited zoos, studied photographs and relied heavily on paintings of grizzlies by legendary Montana artist Charles M. Russell. Autio created several plaster-silica models of the bear at his home in Missoula. University alumni Brian Persha and John Murphy assisted Autio in making early models of the grizzly.
Bronze for the statue was donated by the Northern Pacific Railway Co. and the Pacific Hide & Fur Depot in Missoula. The final prototype was shipped to San Francisco, where the bronze version of the statue was completed by the San Francisco Art Foundry, then driven to Missoula.
The cost of casting and shipping the bear was estimated to be about $12,000, which was financed entirely from private contributions. Significant donations were received from area businesses, the UM Alumni Association and Joseph Thiebes, a Great Falls alumnus and president of Pacific Hide and Fur Depot. The picturesque bear found its permanent home on a concrete podium with Main Hall as a backdrop.
Autio went on to mold the UM ceramics program into one of the best in the nation. His works abound on campus, as well as in UM's Montana Museum of Art and Culture Permanent Collection.
"Autio's statue has guarded the Oval for five decades," President Bodnar said. "He's a tough old bear who represents our undaunted Griz spirit. This will be a fun milestone to celebrate."