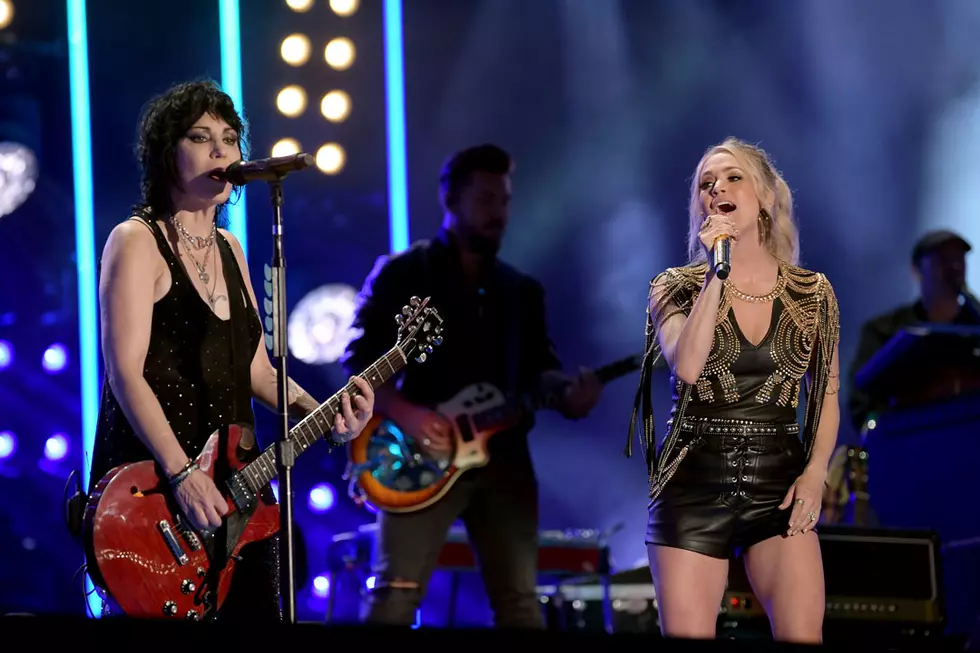 Carrie Underwood, Joan Jett to Reprise 'Sunday Night' Football Open in 2019
Jason Kempin, Getty Images
Carrie Underwood will return to sing the opening theme song during NBC's Sunday Night Football in 2019, and she'll bring a friend. Joan Jett is set to join Underwood this season as the network returns to using "Waiting All Day for Sunday Night" as the introduction.
A sneak preview of the new theme song and video will air on Sunday (Aug. 25) during Sunday Night Football, with the full opener coming on Sept. 8 when the Pittsburgh Steelers play the New England Patriots on NBC. The video was filmed at Mercedes-Benz Stadium in Atlanta, marking the first time in 14 years it was shot inside a stadium. An unknown number of NFL players will also be a part of a video that is usually tailored to match each week's matchup.
Jett's collaboration with Underwood comes just one month after the pair shared a stage during the 2019 CMA Festival on ABC, singing a medley of the classic rockers hits. The Rock & Roll Hall of Famer's 1988 song "I Hate Myself for Loving You" inspired the NFL theme, but it was first performed by Faith Hill before Underwood took over in 2013.
Watch: Carrie Underwood + Joan Jett Share a Stage!
Last season the NBC theme song switched to an original called "Game On." In June a songwriter named Heidi Merril filed a lawsuit claiming she wrote a song called "Game On" that she pitched to producer Mark Bright with the idea of the singer using it to open the NBC broadcast. It's not clear if the change back to "Waiting All Day for Sunday Night" had anything to do with the litigation.
A press release from NBC shares that Underwood pitched the idea to executives and invited Jett to be a part of the song and video. Mercedes-Benz Stadium is home to the Atlanta Falcons.
Carrie Underwood Asked Two Different Women to Host the CMAs! 
Remember When Carrie Underwood Dated an NFL Quarterback?