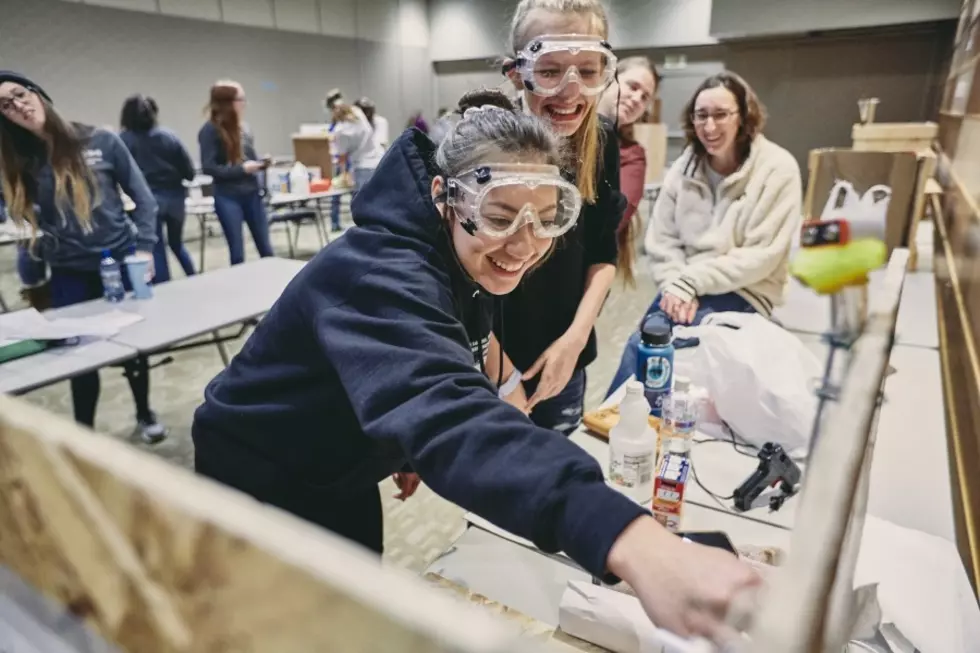 MSU to host record number of teams for annual Science Olympiad STEM competition
Students from Roundup High School prepare their Rube Goldberg machine for the Mission Possible competition as part of the 34th Annual Montana Science Olympiad, Tuesday, Nov. 20, 2018, hosted at Montana State University in Bozeman, Mont. (MSU Photo by Adrian Sanchez-Gonzalez)
BOZEMAN — More than 100 teams have registered to participate in the state Science Olympiad tournament, held each year at Montana State University on the Tuesday before Thanksgiving.
The 120 teams come from 97 schools and will compete against one another in knowledge tests on astronomy, anatomy, meteorology, chemistry and other topics, while other students will see how their free flight airplanes and mousetrap-powered vehicles measure up.
Jason Carter, MSU vice president for research, economic development and graduate education, will welcome the students to campus during the opening ceremony. Carter, himself, was a six-time Science Olympian, medaling in the computer programming event as his school won several regional competitions in his home state of Michigan.
"Science Olympiad made a huge difference in my life," Carter said. "It definitely influenced my career, and I'm excited to welcome all these students to our campus, in hopes they are similarly inspired. As this is the Year of Undergraduate Research, we are especially excited to connect these middle and high school students with our undergraduates, who are involved in such a wide variety of research and creative projects."
The following Montana schools and home school organizations will be fielding teams this year:
Middle school teams will compete from Absarokee, Belfry, Belgrade, Belt, Big Sandy, Bozeman (Chief Joseph, Heritage Christian, Sacajawea), Chinook, Clancy, Conrad, Corvallis, Culbertson, Custer, Cut Bank, Ennis, Fairfield, Florence, Fromberg, Gallatin Gateway, Great Falls, Hamilton, Hardin, Harlowton, Helena (C.R. Anderson, Helena Area Christian Home Educators, Helena Middle), Joliet, Laurel, Lewistown, Libby, Livingston, Manhattan, Missoula (St. Joseph, Target Range, Washington Middle), Montana City, Noxon, Park City, Rapelje, Red Lodge, Saco, Sand Coulee, Shepherd, Simms, Stevensville, Sunburst, Thompson Falls, Three Forks and Worden.
The high school division includes teams from Absarokee, Belgrade, Belt, Big Sandy, Billings (Billings Central Catholic, Lockwood, Skyview), Boulder, Box Elder, Bozeman (Bozeman High, Heritage Christian), Chinook, Colstrip, Conrad, Corvallis, Culbertson, Cut Bank, Ekalaka, Fairfield, Florence, Froid, Fromberg, Glendive, Great Falls, Hamilton, Harlowton, Helena (Capital, Helena High), Joliet, Lewistown, Libby, Livingston, Manhattan, Noxon, Park City, Rapelje, Roundup, Saco, Sand Coulee, Sidney, Simms, Sunburst, Thompson Falls, Three Forks, Victor and White Sulphur Springs.
Some schools will bring both a varsity and a junior varsity team. There is also a small schools division.
Community members who would like to support their local team are invited to contact the school to find out what they need, said Suzi Taylor, director of the MSU Science Math Resource Center, which hosts the Science Olympiad. Taylor said that all teams would likely welcome financial support for their travel to Bozeman, and that some teams might need people with subject matter expertise to quiz or coach kids on their topic areas, while others may need work spaces and tools to prepare for the building competitions.
But, Taylor added, some teachers build Science Olympiad into their curriculum, which makes it more difficult to bring in volunteers, so people should simply ask the coach how they can best support the team. Above all, she said, community members should recognize and cheer for the hard work their students are putting forth.
"These students are preparing, practicing and competing just like a sports team would," Taylor said. "We'd love to elevate the excitement of this statewide competition to the level of a state basketball or volleyball tournament." Taylor said community members who have ideas for raising the visibility of Science Olympiad can email mtscioly@montana.edu.