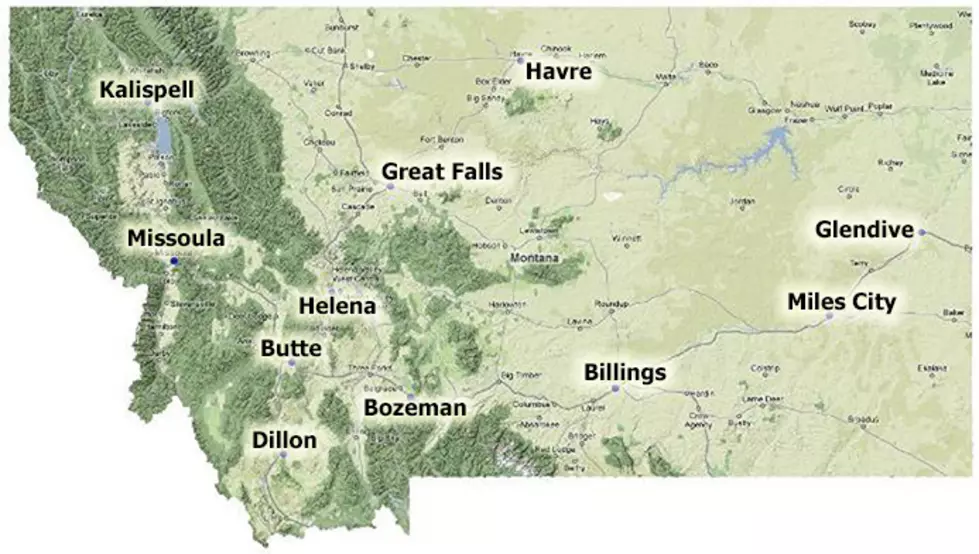 Governor and Commissioner of Higher Education Announce College Access Program
The sixteen universities and colleges of the Montana University System (MUS) collectively enroll over 46,000 students. Campuses that makeup Montana's public system of higher education are located in these cities. (MUS Graphic)
"One-Two-Free" Gives Montana Students Free Access to Higher Education through Dual Enrollment
HELENA— Governor Steve Bullock and Montana Commissioner of Higher Education Clayton Christian announced today the implementation of a new initiative to substantially increase access to higher education through dual enrollment for high school students throughout Montana.
"By eliminating the barrier of cost, we're ensuring that all throughout our state students have exposure to the opportunities that college provides," said Governor Bullock. "Dual enrollment is making a difference for students, families and employers across our state by saving money, streamlining workforce preparation, and inspiring more students to pursue higher education."
"Student success is the number one priority of the Montana University System, and dual enrollment has proven to be a critical tool for promoting student retention and completion, while reducing the need for post-secondary remediation and decreasing time and cost to degree," said Clayton Christian, Commissioner of Higher Education. "We are committed to making sure that those students eager to start college in high school can benefit from the value of dual enrollment and can do so tuition free."
"One-Two-Free" offers two free dual enrollment courses through the Montana University System (MUS) to all eligible high school students. Compared to paying university tuition and fees, the average student will save $1,190 through the "One-Two-Free" program. Total savings throughout the Montana University System will exceed $5 million annually.
Dual enrollment allows participants to take college courses while they are still enrolled in high school. Dual enrollment courses are offered on-site at more than 90 high schools across Montana, as well as on-campus at MUS institutions, or online. Students have broad options in the type of courses they take. They can choose foundational courses like math, writing, and history and also explore courses that lead to career options in fields critical to the Montana economy such as healthcare, manufacturing, computing, business, and education. Along with a free early start to college through "One-Two-Free", students in need of further financial assistance can apply to have the cost of additional dual enrollment classes waived, helping ensure that cost is not a barrier to taking advantage of dual enrollment.
On May 31st, 2016, Governor Bullock and Commissioner Christian announced that City College MSU Billings would pilot a program offering free dual enrollment tuition for high school students. That program demonstrated the value of dual enrollment and the importance of looking at affordability. The positive impact on students has been exceptional.
"Having the opportunity to take dual enrollment classes has impacted me greatly. Being able to get the taste of what a college class is like and how rigorous they can be was a huge help. Having help switching from a high school education to college has made all the difference in making my transition into being a full-time college student so much easier as well. It also doesn't hurt that I left high school with a semester of college already complete on top of an EMT license," said Dara Basso-Crouse, recent Dual enrollment student. " My experience with dual enrollment was amazing and I would suggest it to all current high school students who plan on going to college in the future. The fact that dual enrollment is free in Billings allows all students to take advantage of these classes and makes it an equitable opportunity for all students."
When Governor Bullock took office in 2013, there were approximately 2,500 enrollments per year. In the 2017- 2018 Academic Year, there were more than 6,000 enrollments and participation grew by 1,222 students compared to the prior year, representing a huge step forward in early access to education.
The Office of the Commissioner of Higher Education has begun the implementation of "One-Two-Free" this academic semester. Students wishing to participate can find more information by visiting MUS.edu/one-two-free/