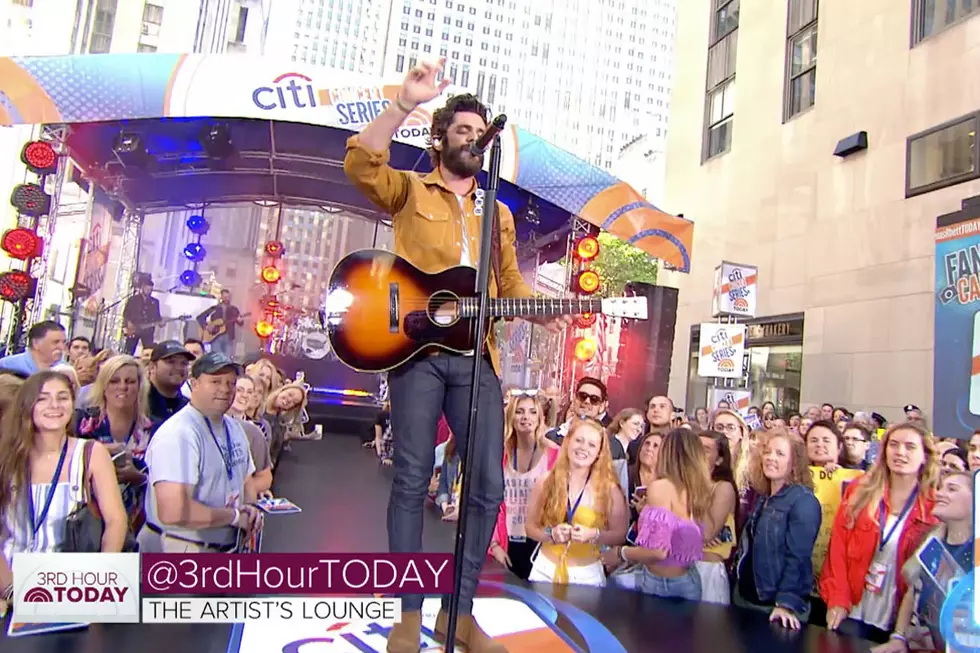 Thomas Rhett Charms 'Today' With 'Look What God Gave Her,' 'Crash and Burn' + More [Watch]
Today
The country star delivered a trio of songs from the new project, along with one of his biggest hits, to the crowd gathered in Rockefeller Plaza in New York City. He brought the charm with the album's first single "Look What God Gave Her," the camera panning to show that the song's inspiration, his wife Lauren, was in the crowd supporting him, along with Today show hosts Hoda Kotb and Savannah Guthrie excitedly dancing in the crowd.
He then took fans to a more reflective place by capturing the essence of Center Point Road with "Remember You Young," a calmness permeating through the crowd as he sang of memories of his wife, friends and two daughters in the glory days of their youth. He stayed in that nostalgic state for "That Old Truck," setting up shop at the end of the stage, putting him in the middle of the crowd.
Rhett rounded out the set with a lively presentation of "Crash and Burn" complete with a three-piece horn section, venturing into the crowd and high-fiving the fans as they sang and danced along. The packed plaza happily obliged when Rhett asked if they'd be willing to jump up and down "like crazy people" on the last chorus, ending the song on a high note.
Kacey Musgraves and Dan + Shay are also slated to perform as part of the Today summer concert series, with the "Tequila" duo taking the stage on June 28, while the Grammy Album of the Year winner graces NYC on July 19.
Rhett's Today show performance coincided with the release of Center Point Road on Friday.
Thomas Rhett's "Look What God Gave Her" Is the Ultimate Tribute to His Wife
These Pictures Prove Thomas Rhett and Lauren Are Meant to Be