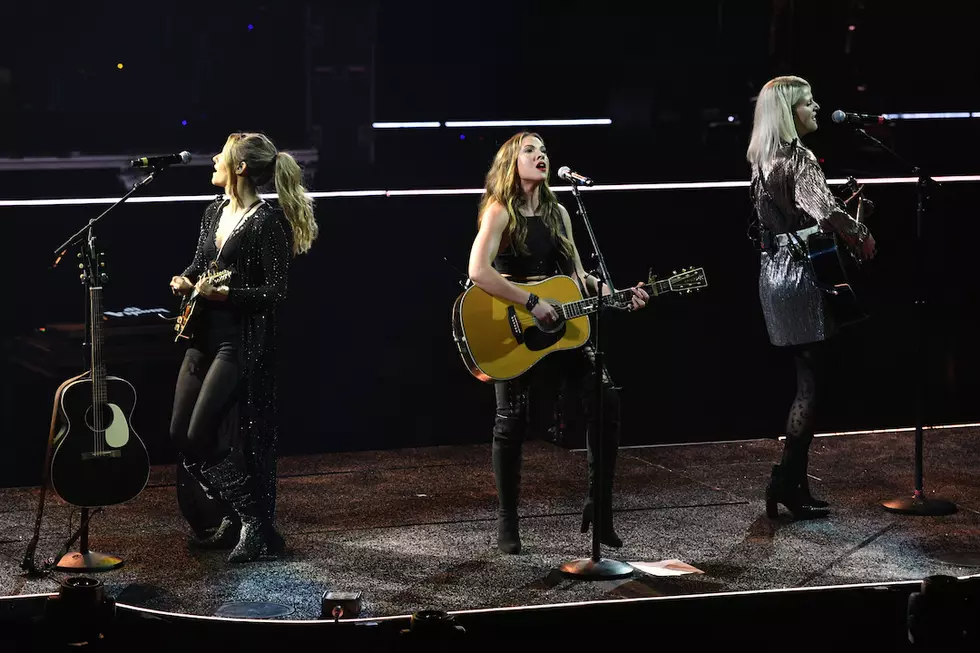 Runaway June's 'Head Over Heels' + 9 More New Country Songs You Need to Hear
Kevin Winter, Getty Images
A slew of country artists released new tunes this week! Read on to check out the latest songs from all your favorite performers -- and maybe get to know a talented new artist or two. Read on!
Runaway June, "Head Over Heels":
Hit-making trio Runaway June have returned with their next single, "Head Over Heels," which comes off their 2019 full-length studio debut, Blue Roses. A kiss-off to a dead-end relationship, the new tune is full of clever wordplay and uptempo attitude. "These ain't my lonely cab ride, one night thrills / These ain't my 'you get drunk, call me up and head over' heels..." the trio sings in the song's chorus. "Head Over Heels" will impact country radio beginning Oct. 28. -- CL 
Easton Corbin, "Raising Humans":
Easton Corbin's latest release, "Raising Humans," is a refreshing take on one of life's most cherished bonds - that between people and dogs. The song is told through the perspective of a dog who sees his human through the everyday struggles of life, including heartbreak. Instead of talking about all the work associated with adopting a four-legged friend, the song flips the script, and instead talks about how hard it is to raise a human. The dog narrator sums it up best, saying "I think raising humans / is the reason God made all us dogs." "Raising Humans" was written by Michael White. -- CC
John Driskell Hopkins feat. Coy Bowles, "Lonesome High":
Founding Zac Brown Band bandmate John Driskell Hopkins steps into the spotlight in his own right with "Lonesome High," an anthemic, forlorn new single dedicated to his wife and children. Fellow ZBB bandmate Coy Bowles is also featured on the track.
"The song was written some time ago for my girls -- my wife and three daughters -- to really capture how much I miss sharing my tour life with them all...and to capture how hard it can be to miss so much in their life when I'm not with them," Hopkins reflects in a press release. -- CL
Abby Anderson, "Flowers":
Abby Anderson cranks up her anthemic sass in the new "Flowers," a searing break-up missive penned to an ex-partner who doesn't stand a chance at getting the relationship back. "Yeah, you can buy me daisies but they're just gonna die / Roses are red, violets are blue / Ain't enough flowers in the world to make me come back to you."
"Flowers" follows Anderson's sunny and love-struck latest release, "Good Lord," which dropped earlier in 2019. At the end of the summer, the singer also wrapped a cross-genre run opening for Rob Thomas during his Chip Tooth Smile Tour. -- CL
A Thousand Horses, "Livin' My Best Life":
A Thousand Horses' "Livin' My Best Life" is a celebratory song about the things that just make you smile, and convince you that you're living the best possible version of your life. In the upbeat song, the boys celebrate everything from landing a girl's number to knocking back a cold one, singing "You went and pushed your limit / And got that pretty girl's digits / You're smiling like you won 20 on a scratch-off ticket / Go and round up all your friends / Ain't gotta be the weekend / They're serving two for one bucket here from 6 till 10."
"Livin' My Best Life" was produced by the band's long-time friend, Nashville mainstay Dave Cobb. "Dave's been a long-time supporter of the band. He's always really believed in us and gets our vision, and always has. I mean, we named our band in his studio 10 years ago," says guitarist Zach Brown in a press release. "It's amazing this journey we've had with him." "Livin' My Best Life" will appear on A Thousand Horses upcoming album, expected in 2020. -- CC
Marcus King, "The Well":
Guitar licks and scuzzy blues vibes dominate in Marcus King's new single, "The Well," which comes off of his recently-announced debut solo album, El Dorado. The new foray sees King teaming up with Black Keys bandmate and producer Dan Auerbach, who co-wrote the 12-track record.
In the new song, "The Well" signifies a resource that may have dried up, leaving King with nothing but memories of a simpler, easier time. "When you have a $70 check go bad, you know times are tough," the singer reflects in a press release. "The Well for me symbolizes all my influences. It is everything that has happened to me to make me the man I am today." -- CL
Kylie Frey, "One Night in Tulsa":
Rising artist Kylie Frey first crossed the paths of many country fans as a winning contest on televised singing competition Real Country, where she rose to the top spot on Shania Twain's team of contestants. Now, the Louisiana native -- and former rodeo queen! -- has shared her new single, "One Night in Tulsa."
Wistful and brimming with classic country inclinations, the nostalgic throwback ballad showcases Frey's soaring, versatile voice. The singer penned "One Night in Tulsa" alongside co-writers Neal Coty and Thom McHugh. -- CL
Lucas Hoge, "Workin' on Me":
Lucas Hoge's new single, "Workin' on Me," is a boozy ode to the feeling of falling in love, with a little help from an old-school honky tonk and a shot of whiskey. The singer says that he immediately gravitated toward the song because of its strong cinematic inclinations.
"'Workin' on Me' is one of those songs that is full of visuals," Hoge explains in a press release. When we were writing it, you couldn't help yourself getting transported right into that old smoke-filled bar with a neon sign." -- CL
Chris Bandi, "Man Enough Now":
Chris Bandi has readied a brand new radio edit of "Man Enough Now," a coming-of-age tale that reflects on the process of growing up -- and mourns for the relationship that might have worked out differently, had he only been a little more mature at the time.
"I can't go back / Girl, I hate that," Bandi sings in the track. "You fell in love with a kid trying to figure it out / 'Cause I'm man enough now." Bandi co-wrote "Man Enough Now" with Jason Massey and Jason Duke. The singer is currently gearing up to take the special tune (and more) out on the road, where he'll tour with American Idol Season 17 champ Laine Hardy. -- CL
Eric Van Houten, "Know About That":
Eric Van Houten brings listeners a little bit of summer in the middle of fall with his new tune, "Know About That." The singer co-wrote his new breezy, fun-loving tune with Jason Duke and Dave Pittenger, which was released as the last in a three-song series that also includes "Freeway" and "Well Enough."
"The write was great," Van Houten says of the new song. "Jason's energy is contagious, and we got the idea of a guy asking a girl if she's down to chase that feeling they've been having, and we just ran with it. The music just feels like the music I grew up listening to!" Van Houten also recently signed a publishing deal with WinSongs Music Publishing. -- CL