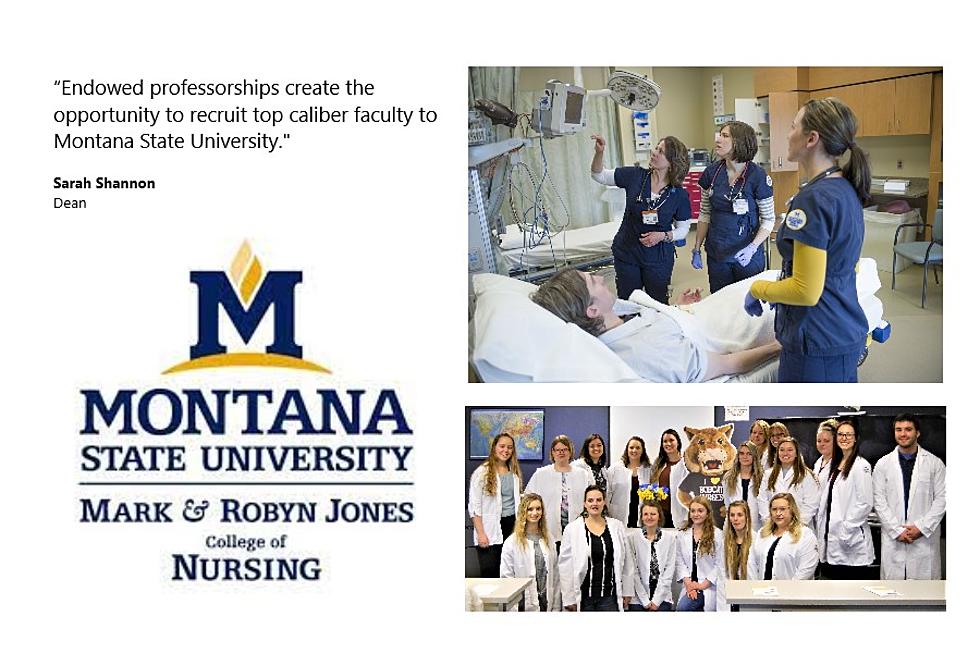 MSU Nursing College for Five New Endowed Professorships
Photo Credit: MSU Graphic by Anne James
BOZEMAN — Montana State University's nursing college is recruiting nationwide for five new endowed professors thanks to recent support from Mark and Robyn Jones.
"Endowed professorships create the opportunity to recruit top caliber faculty to Montana State University. An endowed professorship brings prestige to both the university and to the individual who holds the position, in addition to added financial support for the endowed professor's scholarship and salary," said Sarah Shannon, dean of the Mark and Robyn Jones College of Nursing. "We are deeply grateful to the Joneses for their foresight and generosity in establishing these five professorships, particularly at this time. Nationally, the nursing profession is experiencing a shortage of nursing faculty due to the retirement of the baby boomer generation.  This tremendous investment will help us to attract and hire five, talented new nursing faculty who will bring cutting-edge knowledge to Montana and fresh new perspectives on nursing education."
Individuals holding the professorships may join the MRJCON faculty at any one of the college's five campuses in Bozeman, Billings, Great Falls, Kalispell and Missoula.
Shannon noted that endowed professorships enable the university to recruit and retain mid-career faculty of national and international prominence, recognizing their knowledge, expertise and groundbreaking work.
The professorships are named after five women with ties to the profession, to MSU and its nursing college: Jean C. Roberts, Jodi L. Jones, Anna Marian Shannon, Sarah E. Shannon and Waded Cruzado.
Jean C. Roberts Nursing Professorship
Roberts is the mother of Robyn Jones. She received a nursing diploma and became a registered nurse in 1946. Before graduating, Roberts worked as a student nurse, without pay, at St. John's General, a training hospital in New Brunswick, Canada, according to Robyn Jones. She continued to work at St. John's General and St. Joseph's, which was run by Catholic sisters, where she earned a salary of $95 per month.
She later married Gordon Roberts and moved with him to Raymond, Alberta. There, she continued her career of caring for others at the Lethbridge Municipal Hospital and provided the main source of income for her family for 10 years while her husband built his business.
Her dedication to caring for others was legendary, Robyn Jones said. For example, when roads were impassable during cold Alberta winters, she would ride to work on the back of a snowmobile or in the bucket of a front-end loader. In addition to her work as a devoted nurse, she was a wife and mother of five children.
"She was a blessing to all those who crossed her path," Robyn Jones said.
The Jean C. Roberts Nursing Professorship will be targeted to recruit a faculty member who focuses on nursing care excellence.
Jodi L. Jones Nursing Professorship
Jones is the sister-in-law of Mark Jones. She graduated from the University of Alberta School of Nursing in 1986 and then worked at the University of Alberta Hospital as a registered nurse. According to Mark Jones, for the first 10 years of her career she worked in nephrology, where she cared for patients with kidney failure.
In 1996, Jones became a float nurse, where she continued to develop her skills and worked in the areas of ear, nose and throat; urology; general surgery; thoracic surgery; liver and kidney/pancreas transplants; orthopedics; plastics; and trauma. Jones then spent the next few years of her career focused on general medicine and family medicine.
Before her retirement in 2021, Jones worked in a designated COVID-19 unit, where, Mark Jones said, she had many heartbreaking experiences, including admitting families together to the hospital and facilitating farewells via iPads between patients and their families at the end of some patients' lives.
"Jodi has set an example as a very dedicated and selfless nurse with a lifetime of service to those in need," Mark and Robyn Jones wrote.
The Jodi L. Jones Nursing Professorship will be targeted to recruit a faculty member whose focus and expertise is on innovations in nursing care.
Anna Marian Shannon Nursing Professorship
Anna Shannon was the third dean of the MSU College of Nursing, serving from 1975 to 1990. Her nursing career embodied a passion for psychiatric nursing and nursing education. Under her leadership, the college expanded in enrollment, quality, scope and geographic access for students, including through the creation of the college's Missoula campus. Shannon developed the college by recruiting and retaining faculty with strong educational and experiential preparation and initiating faculty governance. Simultaneously, she inspired faculty to engage in scholarship and incentivized them to pursue doctoral education to advance their scholarship as well as their academic careers.
The Anna Marian Shannon Nursing Professorship will be used to recruit a nursing faculty member whose focus is related to mental health.
Sarah E. Shannon Nursing Professorship
Sarah Shannon has served as the eighth dean of MSU's nursing college since 2017 and is the niece of Anna M. Shannon. Raised in Montana, before coming to MSU, she was professor and senior associate dean for academic affairs at Oregon Health and Science University's School of Nursing. She also previously served for more than 20 years at the University of Washington, where she was a faculty member in the School of Nursing's Department of Biobehavioral Nursing and Health Systems as well as an adjunct in the Department of Bioethics and Humanities in the School of Medicine. She was also chief of the ethics consult service for Northwest Hospital and Medical Center and an ethics consultant for University of Washington Medical Center.
The Sarah E. Shannon Nursing Professorship will be used to recruit a faculty member with a strong interest in professionalism in health care.
Waded Cruzado Nursing Professorship
Cruzado is the 12th president of MSU, and during that time she has significantly reshaped the face and future of the state's first land-grant institution. An articulate and inspirational speaker on the role of the public university, Cruzado is well known for her understanding of the Morrill Act, which created the land-grant university system nearly 160 years ago. She is a passionate champion of the land-grant's tripartite mission of education, research and public outreach, as well as the important role higher education plays in the development of individuals and the prosperity of the nation. She is known as a fierce advocate for access to education for all.
Under Cruzado's leadership, MSU has set new student enrollment records, becoming the fastest-growing and largest university in the state. Simultaneously, Montana State's retention rate – the percentage of first-year students returning for their second year – has continued to climb, and Cruzado consistently reaffirms the importance of a campus environment that places student success as the top priority. MSU's research enterprise has also flourished under President Cruzado's leadership, and the university's students routinely win prestigious national awards. The campus has also seen the completion of numerous major construction and renovation projects during Cruzado's tenure, and additional philanthropic support for the university has grown.
The Waded Cruzado Nursing Professorship will be used to recruit a faculty member who embodies the land-grant mission through a passion for rural health, equity or health policy.
Kathleen Chafey Nursing Professorship
Last month, the university announced a charitable endowment given by Kathleen Chafey, a former director of a Montana State University program that provides support for Indigenous students pursuing nursing degrees. The Kathleen Chafey Nursing Professorship, permanently names the position in honor of the woman who founded the college's Caring for Our Own Program, or CO-OP. MSU nursing professor Laura Larsson, who currently directs CO-OP, is the inaugural recipient of the endowed professorship.
"Dr. Chafey was visionary when she created the CO-OP program over two decades ago with the ultimate goal of addressing health disparities among Native Americans by increasing the number of American Indian/Alaska Native nurses," said Sarah Shannon, dean of the Mark and Robyn Jones College of Nursing. "Today, Kay has again shown her vision and commitment to CO-OP by ensuring it will have strong leadership in perpetuity through this endowed professorship for the CO-OP faculty director."
Founded in 1937, MSU's Mark and Robyn Jones College of Nursing offers bachelor's, accelerated bachelor's, master's and doctoral-level nursing education to produce nurses, nurse leaders, nurse educators and nurse practitioners for Montana. Using a distributed model with campuses in Bozeman, Billings, Great Falls, Kalispell and Missoula, Montana State is the largest producer of registered nurses in Montana and is the sole provider of doctoral nurse practitioner education in the state. More information is available at montana.edu/nursing/.
- by Anne Cantrell, MSU News Service -