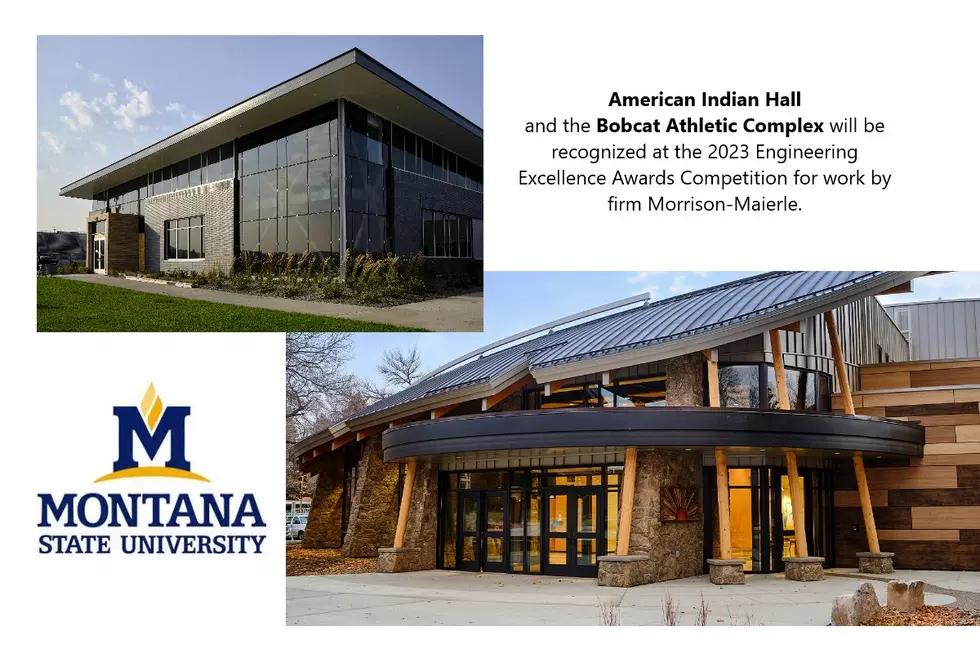 MSU Buildings Win Awards for Engineering Excellence
Photos by MSU Graphic by Anne James
BOZEMAN — Two recently completed buildings at Montana State University, American Indian Hall and the Bobcat Athletic Complex, will be recognized at the 2023 Engineering Excellence Awards Competition.
The awards will honor work by engineering firm Morrison-Maierle at the Montana Engineering Honors Banquet held as part of the Montana Society of Engineer's 2022 Joint Engineers Conference in Helena on Nov. 2.
"Morrison-Maierle has deep ties with Montana State, and it has been rewarding to work with them to make these important additions to campus that serve our students," said John How, MSU associate vice president of facilities management.
American Indian Hall, which opened for classes in January, will be honored in the Structural Systems category. The award cites the building's "complex footprint that required an advanced structural design to incorporate unique, sustainable and culturally appropriate features." The 38,000-square-foot building is the first building in Montana to earn LEED Platinum certification under version 4.1, the highest ranking using the U.S. Green Building Council's sustainability rating system. Other partners on the project included ThinkOne Architecture, TSP Architects and general contractor Swank Enterprises. The building is heated and cooled by 24 geothermal wells and produces up to 62 kilowatts of solar energy through photovoltaic panels.
The Bobcat Athletic Complex, which opened in October 2021, will receive the Building/Technology Systems Honor Award. The award cites Morrison-Maierle's work to design the wide range of services offered in the 40,000-square-foot building, including a state-of-the-art weight room, training rooms, a hydrotherapy pool, locker rooms, a nutrition center, physical therapy, coaches' offices, a laundry facility and a 120-seat football meeting room.
Morrison-Maierle was co-founded in 1945 by John Morrison, who earned his bachelor's in civil engineering from MSU in 1927. His son, John Morrison Jr., who earned his bachelor's in civil engineering from MSU in 1955, served as the company's president and CEO from 1973 to 1988. Both Morrisons have been inducted into the Montana Engineering Hall of Fame during the annual Joint Engineers Conference. The firm now has 12 offices in Montana, Wyoming, Oregon and Washington.
- by MSU News Service -