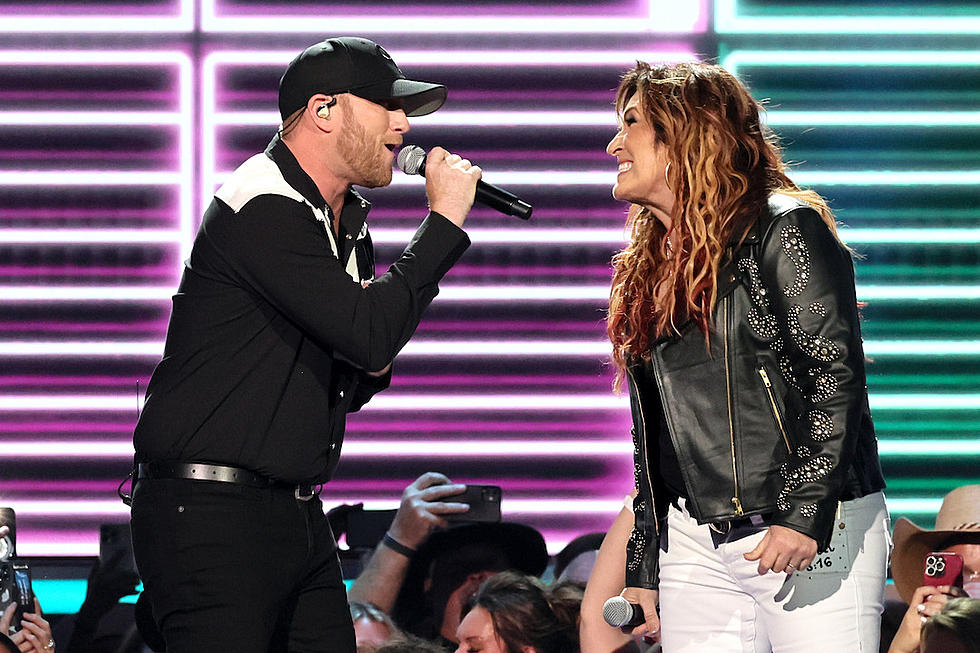 Cole Swindell and Jo Dee Messina Bring 'Heads Carolina' to the 2023 ACM Awards
Theo Wargo, Getty Images
Cole Swindell and Jo Dee Messina teamed up for a lively remixed performance of "She Had Me at Heads Carolina."
The duo had big shoes to fill, their performance immediately followed the opening monologue from hosts Dolly Parton and Garth Brooks. Leaning into the bar appeal of the song, the pair kept things look more casual and laid back compared to the dressed up crowd. Messina started off by rocking out on guitar as Swindell began singing.
Swindell took the microphone for a walk through the crowd before meeting up with Messina on a satellite stage. Messina was all smiles while Swindell directed the lyrics "And she's a '90s country fan like I am" directly at her. Soon after, Messina launched into her own solo with Swindell breaking in at the end to tell the crowd to give it up for her.
Immediately after giving their high energy performance, Swindell took home the win for Song of the Year. Messina could be seen crying in the crowd as she took in the moment.
"She Had Me at Heads Carolina" is featured on Swindell's Stereotype album, released this past April. The Georgia-born singer co-wrote the tune with Thomas Rhett, Jesse Frasure and Ashley Gorley, and "Heads Carolina" writers Tim Nichols and Mark D. Sanders are also credited on the track. Swindell told Taste of Country Nights he wanted to write the song because he is a "huge fan" of Messina, and he reached out to the songwriters and Messina herself before releasing it.
The 2023 Academy of Country Music Awards were held tonight (May 11) from the Ford Center at the Star in Frisco, Texas. A running of list of nominees and winners is available here.
Stay in the know by checking back to TheBoot.com for the latest ACM Awards headlines, liking The Boot on Facebook and following The Boot on Twitter and Instagram.
Country Stars Step Out On the Red Carpet at the 2023 ACM Awards
See Dolly Parton, Jelly Roll, Ashley McBryde and more stars walk the red carpet ahead of the 2023 ACM Awards.