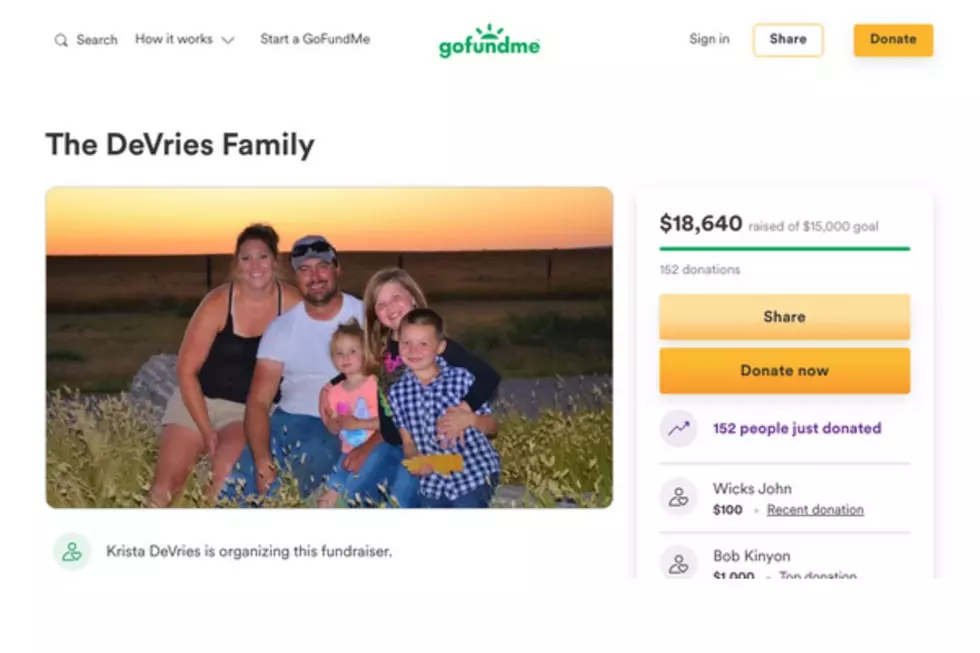 Conrad Community Rallies Around the DeVries Family
Photo provided by GoFundMe
The DeVries Family of five lost their home and shop to a fire Thursday. They were able only to escape with the clothes on their backs. Now the community is rallying to support them as they rebuild this massive loss.
"12 years of blood, sweat, and tears working the land and making their house a home was gone in a flash," Krista DeVries wrote on GoFundMe. "Please consider donating so that they may begin to rebuild."
To view the GoFundMe, click
HERE
.
In just one day the community has raised more than $18,000 to help the DeVries recovery from this tragedy. (Note: Go Fund Me does keep a small percentage of funds donated)
Local businesses and organizations are rallying around the family, as well:
A benefit account has also been set up at the Stockman Bank, P. O. Box 727 in Conrad.  The bank says checks should be made out to "Riley or Sara DeVries."
Conrad Building Center has a donation box available. (Money collected will go into the Stockman Bank account.)
Conrad High School FCCLA will host a "Fill the Boot" Fundraiser at tonight's (9-9-22) Cowboys vs Bigfork football game.
Rustic Farm Girls Bakery will be open after the game, and will donate $1.00 from every item sold to the DeVries family.