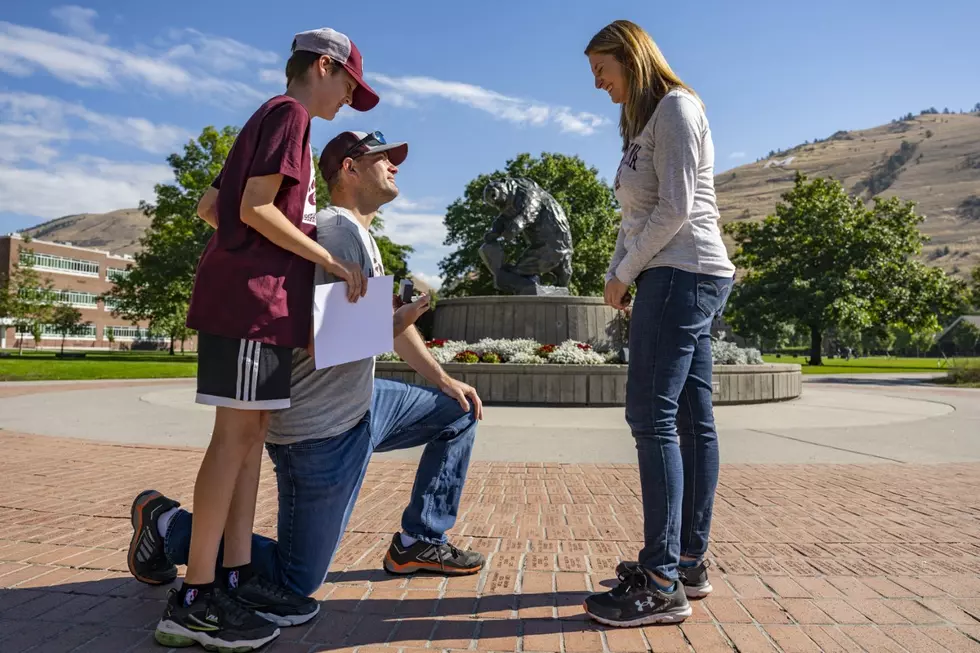 A Homecoming Love Story: UM Alum's Marriage Proposal Etched in Stone
Andrew Pitsch proposes to Linsey Trenary on the University of Montana Oval Sept. 24 while her son, Landon, looks on. (UM photo by Tommy Martino)
MISSOULA – University of Montana alumnus Andrew Pitsch is one of those big-hearted romantic guys, so when it came time to ask his girlfriend to marry him, he wanted it to be extra special.
This is what he came up with: Pitsch purchased an engraved Centennial Circle Brick near the Grizzly Bear statue on the UM Oval. The inscription reads:
LINDSEY TRENARY
WILL YOU
MARRY ME?
            He then decided to lure his bride-to-be to campus for UM's Sept. 24 Homecoming football game. Two hours before kickoff, with the University's signature grizzly statue looming overhead, he would point out the special brick, blow her mind, drop to one knee and verbally repeat the big question.
That was his plan anyway. This is how it really went down:
Traffic was a bit intense after the UM Homecoming parade. Pitsch, who graduated in 2015 with a degree in sociology, was all nerves from juggling multiple details to make his surprise happen. But he managed to find a parking spot near University Avenue, which provided a straight shot down to the bear statue. Then he learned the photographer he had lined up to record the moment – his buddy Tommy Martino (who happens to work for UM) – was trapped in traffic.
Pitsch started to walk slower to give Martino more time … but not too slowly. His girlfriend already was suspicious he was up to something. A few months previous, he had rummaged in her jewelry box looking for her ring size. She noticed things had shifted.
"She's like 'Why were you in my jewelry box?''' he said. "I couldn't believe I had been so dumb to not cover my tracks. The was kind of the first tipoff."
The second tipoff was him bringing up the idea of officially adopting Trenary's 11-year-old son, Landon. She knew he was getting serious, and big things were afoot. But he had spun it that they would break the adoption to Landon on the UM Oval, which was why they had to go there.
Life sped up and became chaotic as they arrived at the Grizzy Bear statue. First, Trenary spotted her parents loitering around the UM Oval, which was a bit unusual. (Pitsch had formally asked them for her hand in marriage, and they had wanted to be there for the adoption and proposal. An aunt and uncle also lurked nearby.) His photographer was still missing. Then – in a surreal confluence of UM Oval love – they saw another couple getting engaged!
"We saw the whole thing go down with the other proposal," he said. "She said yes, and they were kissing at that time. What were the chances?"
Pitsch fought to stay focused. He pushed on. He pulled Landon aside and spoke of the adoption. He had become a father figure to the boy, and they were going to make it official. Random people walked by and asked him and Trenary, "Did you two just get engaged?" He tried to ignore them.
In the midst of this, the photographer finally arrived. Martino walked up and started congratulating them – Pitsch didn't know if it was for the adoption or proposal. He firmly patted Martino on the shoulder and said, "I'm going to need another minute, man!"
Pitsch persevered. He told his girlfriend he had one more surprise for her. He led her to her brick – he had scouted the exact location early in the morning – and said, "Hey, Lindsey, I need you to look down and read that for me." Then he got down on one knee.
Despite all the hints and suspicions, Trenary didn't see the brick coming.
"I was so nervous I was shaking," Pitsch said. "Pretty much what I said was, 'Lindsey you are the love of my life – the woman of my dreams. Would you do me the honor and marry me?' And I started crying when I said, 'You are the love of my life …' I don't know what came over me, but I got emotional. But I got it together when I asked her to marry me."
After that, all the surrounding family members "came barreling in" for congratulations, hugs and pictures. Pitsch said it was a crazy, special scene he will always remember.
He got the idea to use a Centennial Circle brick for his proposal because his mother purchased one to celebrate his UM graduation, and he said the marriage brick isn't too far from his student one.
Pitsch grew up in Billings, and Trenary is from Helena. They met working at the Montana State Fund in Helena, and they started dating in April 2019. She is currently a human resources business partner for the state Department of Administration. He still works part time for the Montana State Fund and also is a part-time student at Helena College UM.
As for their marriage brick, anyone can view it on the Oval. The bear statue faces directly toward it on the outer edge of engraved bricks. And the brick immediately below was purposely left blank. Next spring, UM will engrave it with:
SHE SAID YES.
- by Cary Shimek, UM News Service -